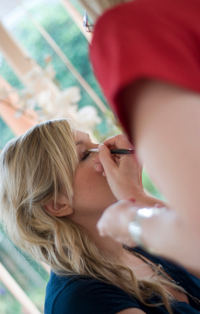 Makeover Workshop! Hosted by the very lovely and knowledgeable Sue Guild from All Over Beauty in Chelmsford.
What size group?
This Workshop is great for a maximum of x4
How long is the workshop? 3 hours including your meal break.
What will I be doing? Experienced make-up artists Sue and Jess will help guide you to the most flattering make-up and demonstrate how to take your fantastic new look look from day to evening. Most importantly your makeover will be in response to your own requests and make up needs. There will be several product ranges to choose from and all are suitable for even the most stressed or problematic skin types (and all ages!!)
Sue is both a qualified colour consultant and skin therapist and will therefore be able to advise on the best colours for eye and skin make-up as well as supporting you with any skin problems and suggesting how best to treat and/or cover them.

What's included?
Enjoy a glass of Prosecco on arrival. Tea and cake during your interval. All make up and equipment is provided. Your workshop also includes a fab goody bag with samples and discount vouchers!
What do I need to bring? Just bring yourselves and any current make-up and any current make-up and skin products you might wish to discuss.
Ticket Price £60
Minimum Package Price £240 for less than x8 people
Please note: You will receive a confIrmation email from us once you have purchased your ticket/s. Attendees do not receive a physical ticket.
NB: To purchase multiple tickets you need to add them individually to the cart and fill in the details for each person attending
Ticket sales are not refundable. If something comes up and you are unable to make it you are welcome to gift your ticket to a friend.
We reserve the right to, at any time, cancel the event and issue a refund.
Do you want to know when the next Makeover Workshop will be? or want to Host your own workshop at home or in one of our fabulous venues? then click below to message us!
OTHER WORKSHOPS YOU MIGHT BE INTERESTED IN....
Learn how to create your own stunning design drum Lampshade suitable for either ceiling or table lamp
POM POM KEY RING WORKSHOP
Nothing more fun than a natter whilst your create these fun Key rings to attach to your summer bag or keys
Learn the skill of screen print and create your own designer tea towels